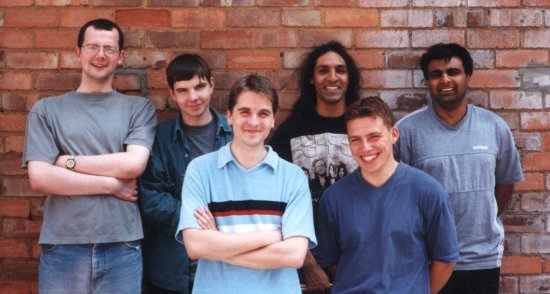 From left to right: Paul, Chris, Rob, Opkar, Lee, Avtar
| | |
| --- | --- |
| Paul Moxon | Concert Director / Keyboards |
| Rob Savage | Keyboards |
| Chris Morgan | Keyboards |
| Lee Haynes | Keyboards |
| Opkar Hans | Drums |
| Avtar Bassi | Percussion |
On August 23rd 1998, Mystique performed a fantastic live tribute of Jarre's music, to a spectacular backdrop of lights and specially-designed graphics. They played a superb combination of tracks from throughout Jarre's career:
Oxygene 13 / Oxygene 8
Magnetic Fields 1 / Magnetic Fields 1 part 3
Equinoxe 7
Souvenir of China
Orient Express
Magnetic Fields 2
Second Rendez-vous
Oxygene 10 (with guest Lee Sainsbury on Theremin)
Fourth Rendez-vous
Oxygene 4 / Chronologie 4
Ron's Piece (with guest Louise Millward on Saxaphone)
Calypso
More pictures, audio and visual files will be updated soon. Click any pic above for larger images.